Dear Friends and Family;
2020 was a tumultuous life-changing year, affecting everyone in our family. Susan lost a member of her songwriting group, and a college classmate, to COVID-19. She and Rich are grateful that the family are healthy and safe in the midst of all the suffering and turbulence around us.
Andrea and Bobby sublet their NYC apartment and have spent the entire pandemic at their house near Hudson, NY. Andrea is working from home on various writing and performance projects. Bobby lost a year's worth of gigs and has continued to online workshops. He set up a page on patreon.com a membership platform that allows artists to earn income by offering performances, videos, merchandise, rewards and other perks to subscribers. They recently spent 2 weeks in residence at the Chocolate Factory (www.chocolatefactorytheatre.org), an NYC performance venue, documenting the development of Andrea's performance art piece, originally due for production there in 2020 that will now live forever in digital formats. Follow them on www.andreakleine.com and www.bobbyprevite.com.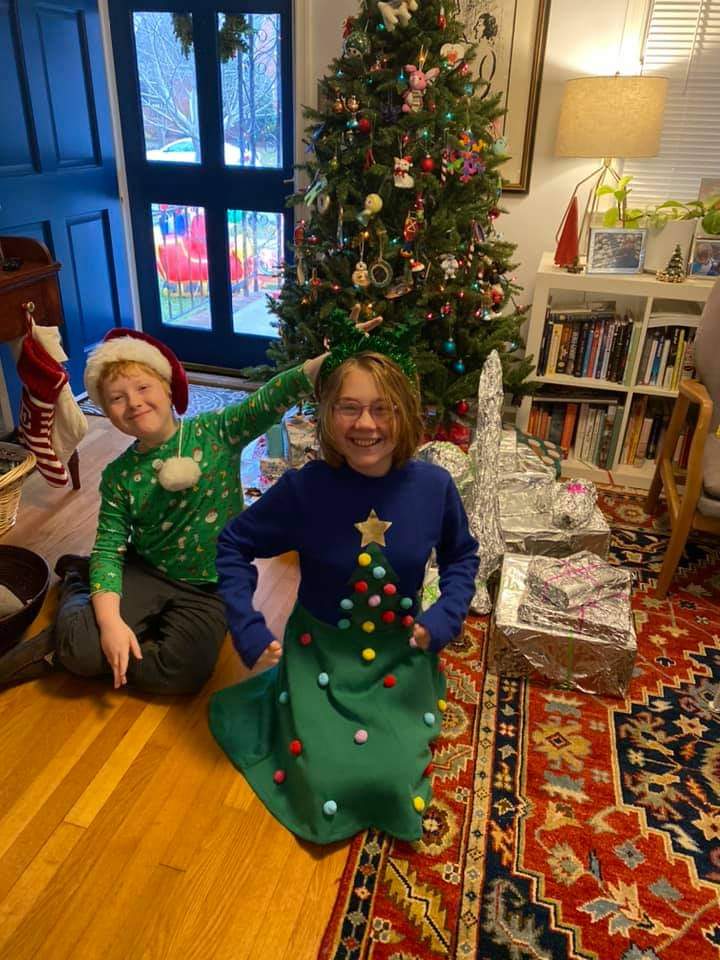 Ben & Sword
In Richmond, Hilary continues as Communications Director at Donate Life America. She and both kids have worked and attended schools remotely since March 2020. Both kids changed schools in September. Nina turned 12 in October and adopted a new name, Sword. Sword is a sixth grader at Albert J. Middle School, once attended by Andrea and Hilary. Sword still reads voraciously, draws and writes graphic stories and loves their new phone. Ben, now 10, is a 4th grade at Mary Mumford Elementary School, likes his teacher but not remote learning. He loves his video games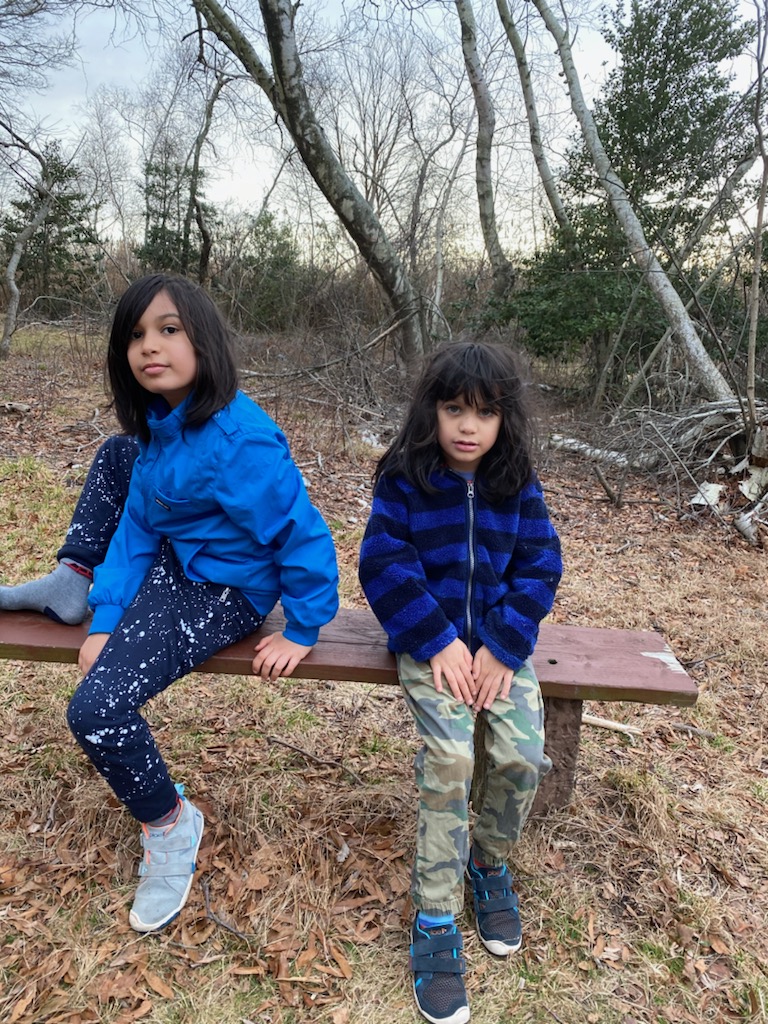 Vishnu & Sunny
Jared and Seema spent the pandemic moving between their NYC apartment and her family's home near Philadelphia. Jared continues to work on his final project for the Columbia University Graduate Writing Program. Seema has a literary agent and is working on a second novel. Vishnu, 10, and Sunny, 7, now attend NYC schools remotely. Vishnu, still a voracious reader has become very interested in birds but still likes to read about natural disasters and extreme weather. Sunny likes reading about all animal life.
Rich is still the lead IT guy for Jedwards International, Inc. a small family-owned company in Braintree MA. The company was deemed essential after the pandemic struck because they import and distribute oils used in the manufacturing of hand sanitizers. He is working remotely three days a week. Since March, his contributions to the work of independent singer/songwriters have gone to supporting their livestreams, patreon pages and other work online to get their music out there. Rich is still keeping our calendar full on online concert dates. He and Susan were thrilled when outdoor concerts started in July and ran through October. They particularly enjoyed the music at the Word Barn Meadow in Exeter, NH.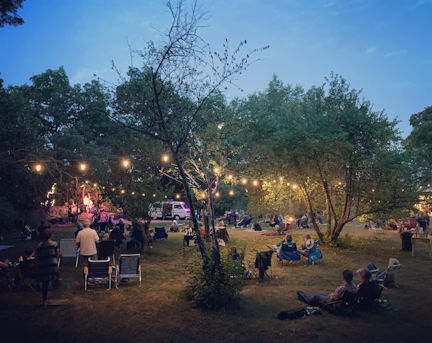 Word Barn Meadow
Susan finished her consulting project for Loudoun County, VA. (a slave quarters site) in June. Her consulting practice evaporated (hopefully temporarily) as potential clients pushed back projects for the duration of the pandemic. All travel came to a screeching halt, taking away her annual ALHFAM Conference and Summer Acoustic Music Week (SAMW). Susan turned more of her energy to music. One of her songwriting classes turned into an ongoing songwriters group. She acquired a 4-string tenor guitar and is taking online lessons on that as well continuing on the standard acoustic guitar. Next up: she is taking an intro to piano online via Club Passim School of Music. We'll see where all this leads. To top off the year, Susan had extensive back surgery (double lumbar fusion) just before Thanksgiving. This whole deal was bigger than she thought with physical and occupational therapists coming to the house for the first month and regular physical therapy upcoming in the spring … but the benefits are becoming evident.
We wish all a Happy New Year and better times for 2021.