Dear Friends and Family
Our family had a lot going on in 2013.
Susan
and
Rich
moved to Boston and now reside in the cityís North End.
Andrea
and
Bobby
bought a country house.
Hilary
and
Josh
went in search of a new house and
Jared
and
Seema
welcomed a new addition to the family. All the grandchildren,
Nina, Ben, Vishnu
and baby
Sid
are flourishing, very cute and otherwise magnificent.
Andrea
and
Bobby
now have their very own artistsí retreat, a small house on eight acres near Hudson, NY [about 2 hours north of NYC]. They now divide their time between the city and the country, pursuing their artistic endeavors in both places. Andrea now has a blog
thedancerswillwin.tumblr.com
where she writes dance reviews among other things. Bobbyís musical composition Terminals premiered in France in the fall. Follow them on
www.andreakleine.com
and
www.bobbyprevite.com
.
Hilary
and
Josh
are on the verge of big changes. They will move to a bigger house in a good school district this January, in advance of Nina entering kindergarten in the fall of 2014. Hilary continues her telecommuting job as a government contractor in the organ transplant field. Josh remains on the staff of the Virginia Commissioner for Public Health. They both contribute mightily to their business Ravenchase Adventures.
Nina
, now five, attends Pre-K where she is learning all about animals, her latest passion, and continues to enjoy art activities.
Ben
, now three, is still in pre-school, has a new and growing interest in Superheroes and an ongoing one in wheeled vehicles.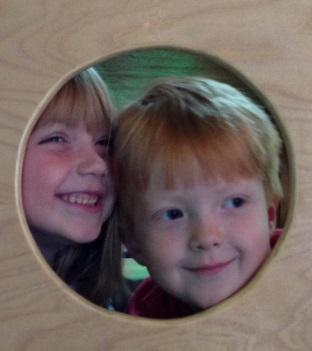 Nina and Ben
Jared
and
Seema
welcomed a new son, Siddarth Chirico Srivastava-Hanson (aka
Sid
), on July 8, 2013 near Philadelphia. He surprised everyone with his blue eyes. The family is still in Washington, DC, where Jared is a third year law student at Georgetown University. Seema completed a Master of Arts in Writing from Johns Hopkins at its DC location this semester and continues to work on her writing projects.
Vishnu
is three, a sweet boy who loves trucks and watching his favorite programs on the iPad.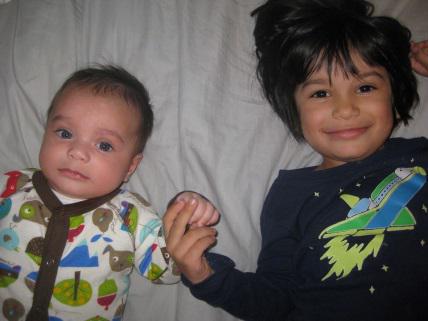 Sid and Vishnu
Rich
had a memorable year as he turned 65 and was headhunted for a new position as his former company prepared to move everyone to Columbus, Ohio. He is now the Senior Manager E-Commerce at Orchard Brands, a catalog and e-commerce retailer specializing in the over-55 market, headquartered in the Boston area. He has been reunited with some his Tucson colleagues who now work at Orchardís Arizona location. Rich moved to Boston in late May to start work at Orchard while Susan remained in Philadelphia until Labor Day when their new digs were available. He remains an active contributor to independent singer/songwriters efforts to produce new albums, continues to seek out new talent and keeps our concert calendar full at Massachusetts and New Hampshire venues. Many of our favorite performers come through Boston regularly. Rich still supports the website for
Marina V
.
Thanks to the State of Texas,
Susan
had another very busy consulting year in 2013, finishing her project at the Sam Rayburn House Museum, continuing work on the Levi Jordan Plantation near the Gulf Coast and starting a new interpretive master plan project for the Fort McKavett State Historic Site, an Indian Wars era U.S. Army fort in the hill country of West Central Texas. Susan traveled to Texas five times in 2013. In Boston, Susan now volunteers in the archives of the West End Museum, an emerging neighborhood museum focusing on local history and the impact of urban redevelopment c. 1960 when the West End of Boston was demolished and its population scattered. She will join the Museumís Advisory Board in January.
Five days after moving to Boston, Susan fell on the sidewalk outside the museum, broke the little finger of her left hand and suffered a contusion over her left eye. She has recovered from the worst effects of the fall, but is still undergoing occupational therapy on her left hand. This has certainly slowed down getting to know our vibrant new neighborhood full of Italian restaurants, bakeries, specialty food stores and an active street life as well as hanging pictures and shelving books in our new home.
We wish all the very best to you and yours for 2014.